Less than a month and it's Christmas! 😀 Getting presents is always fun, but what to give your boyfriend? I noticed I wasn't the only one wondering so here are some ideas.

A watch
Ever since I bought my first watch, I can't live without it around my wrist any more! You don't have to take your phone when you're trying to catch your train to check if you're going to make it. Besides that, they are an awesome outfit upgrader! Yep, I love my watches. This Fossil watch is one I would definitely buy my boyfriend.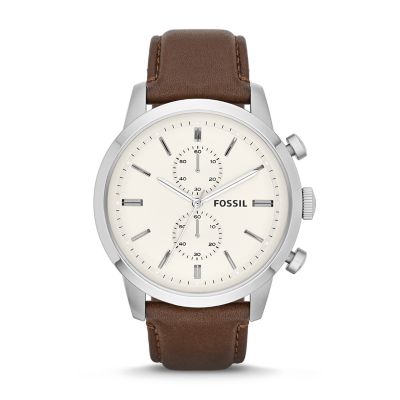 A Playstation/Xbox/… game
If your significant other has a gaming console, you can easily buy him a game for it. Tips: buy a game he's been talking about for ages (even though chances are he buys it himself. In that case, don't buy it too soon and keep the receipt so you'll be able to change it!) or a game you can play together. My boy bought a Xbox One console on Saturday and he has already hinted he would like to have a certain game. Check!
A gift card for a design shop
Ever since we know we will live together in the near future, we've been checking design shops when shopping or cutting out nice furniture pictures from magazines. If you already own a house/an apartment you can easily buy some furniture. If you however, like us, don't have any space to stock future furniture you can easily buy a gift card instead. Best make it more special than just an Ikea gift card too. (;


His favourite movie or band on a poster is always a nice idea. More personally however is a poster with you two on (for example during a holiday) or with a view from during your holiday. I've got a poster with a view on from my boyfriend two years ago and I still love to look at it because it brings back so many good memories.
A CD/playlist filled with your music
We have tons of songs that remind us of something! Lost Frequencies' 'Reality' reminds us of our road trip to France this summer, while The Kooks' 'Junk of the Heart' reminds us of our 2011 trip to Rome. Then there's Uncle Kracker's 'You Make me Smile' that perfectly shows how I feel about my boyfriend. Oh and then there's Edward Sharpe & The Magnetic Zeros' 'Home' that I've sung waaaay too often and that makes him roll his eyes and laugh whenever we hear it and I start to sing. Put those type of song  on a CD or in a playlist and relive those moments together again.


A onesie of his favourite movie character
For those lazy Sundays. Nuff said.
Whether that be a cologne or a deodorant. The first option of course is way classier, but (almost) anyone uses deodorant, so why not make it easy for him and buy him some? 😀

I think buying a (Christmas) gift for your boyfriend is so difficult. Thanks to his new gaming console I now know at least one thing I can give him, but otherwise I would certainly buy him one of the above things. What will you buy your boyfriend? 😀

xo Noor